Otonaplus High Moisture Night Mask
An anti-ageing and moisturising night mask that performs a 5-in-1 function: toner, emulsion, serum, cream and mask in just 1 minute!
Key benefits
Contains nano-encapsulated Vitamins C and E that penetrate deeply into skin to fight signs of ageing
Hydrates your skin to replenish moisture all night long
Alcohol-free, menthol-free and mineral oil-free
Highly stretchable sheet mask is adjustable for a perfect fit on your face
* In the case of very dry skin, leave it on for 5-10 minutes
Scent: Fragrance-free
Skin Type: Dry skin

Nano-encapsulated Vitamins C & E
Helps in fighting damage from free radicals and UV.

Malic Acid
Brightens and smoothens the texture of the skin.

Royal Jelly
Boosts collagen production to nourish and protect the skin.
Placental Protein
Moisturises, tightens and rejuvenates skin.
Collagen
Contains powerful antioxidants to help the skin regenerate and slow down the ageing effects.
Hyaluronic Acid
Reduces dryness and flaking of the skin by increasing hydration.
$24.20
Open the flip lid, remove one sheet mask and unfold it gently.
Align the mask to your face. Hold the mask on both sides and gently stretch to adjust it perfectly on your face.
Remove the mask after 1 minute and gently pat the remaining essence until it is fully absorbed into the skin. You're ready for makeup!
WATER (AQUA), GLYCERIN, ISOPENTYLDIOL, DIGLYCERIN, PEG/PPG/POLYBUTYLENE GLYCOL-8/5/3 GLYCERIN, PPG-14 POLYGLYCERYL-2 ETHER, BETAINE, PEG-60 HYDROGENATED CASTOR OIL, DIISOSTEARYL MALATE, POLYGLYCERYL-10 EICOSANEDIOATE/TETRADECANEDIOATE, METHYLPARABEN, PHENOXYETHANOL, XANTHAN GUM, STYRENE/ACRYLATES COPOLYMER, SODIUM CITRATE, ETHYLPARABEN, CITRIC ACID, BUTYLENE GLYCOL, ASCORBYL GLUCOSIDE, MALIC ACID, PLACENTAL PROTEIN, DIPROPYLENE GLYCOL, TOCOPHEROL, HONEY (MEL), POLYQUATERNIUM-61, VITIS VINIFERA (GRAPE) FRUIT EXTRACT , MILK EXTRACT, HYDROGENATED LECITHIN, ROYAL JELLY EXTRACT (ROYAL JELLY), SODIUM HYALURONATE, CHOLESTEROL, MAGNESIUM ASCORBYL PHOSPHATE, DIHYDROCHOLETH-20, SOLUBLE COLLAGEN, SPHINGOMYELIN, LACTOSE, TOCOPHERYL ACETATE, PEAT EXTRACT, PEG-100 HYDROGENATED CASTOR OIL, TRIETHYLHEXANOIN.
Shavon Teo
Skin type: normal
Age range: 21 – 25
I've been using it for quite some time. Love how convenient it is, especially in my morning routine. Provides the right amount of hydration and absorbs fast !
---
Sharon
Skin type: normal
Age range: 31 – 35
perfect for the lazy me who wants to get the most from a mask! just cleanse my face and put on the mask, let it works its wonder. definitely a travel essential when i pack minimally to bring Saborino mask with me
---
Rebecca
Skin type: oily
Age range: 31 – 35
Love how I can mask routine fix in just 60s ! Easy and speedy to use ! Skin feels well hydrated just after 1st attempt, definitely gonna try the remaining series !
---
Wei Qi Ng
Skin type: oily
Age range:
I really enjoyed the 1 minute use, it's very effective in making my face feel less oily! Especially after a hectic day at school, I can reduce time spent washing up. I also love the scent that comes along with it
---
Sarah
Skin type: normal
Age range: 31 – 35
This 1 minute mask is perfect for moms like me who needs more sleep and has no time for skincare. It really boosts my skin moisture and my face look very radiant and supple after use! The sheet adheres well to my face and has a pleasant mild serum scent. Really happy with this mask! Will buy again !
---
Seah Serene
Skin type: oily
Age range: 36 – 40
It is amazing that a 1 min mask can actually moisturize our skin overnight. No stickiness after removing and I did not apply any other products after the mask. I woke with glowing skin and the skin did not feel dry or tight at all. Pretty afforable too to use daily!
---
Clarabelle
Skin type: sensitive
Age range: 21 – 25
The Saborino mask is extremely convenient and motivates me to be less lazy to use it, as it can be applied for as short as 1 min! Though the mask is slightly smaller than usual, it is stretchable, hence it allows me to still fit the mask to my face. The mask is also suitable for my sensitive skin!:)
---
Kai Xin Ng
Skin type: Normal
Age range: 31 - 35
Easy product to use to moisturize my skin at the end of the day. Product is not too dry for a 1 min mask.
---
Products you might be interested in:
Botanical Morning Mask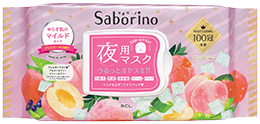 Moisture Mild Goodnight Mask
Otonaplus Brightening Night Mask